Earlier this month an after-school club in Tabard Street hosted the first Magic Cake Day. 35 children between the ages of 4 and 11 decorated 150 cakes, inspired by Konditor and Cook's famous square cakes.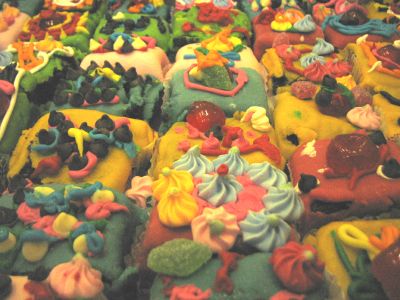 The idea for the project came from Aleem Hussein: "I used to volunteer with a food for the homeless organization (Food For Life) and in a primary school with very young children. I love food and really believe that what we eat really is important. As a student at the LSE it's been very evident that many of my peers don't know how to cook and as such the have no choice but to eat cheap take-aways or heavily processed micro food. As part of a course I've been attending with Landmark Education I had to begin a community project and so I decided to combine my previous volunteering experiences and get children to decorate little magic cakes and get them into cooking and volunteering in the community at the same time."
Prashant Joshi, leader of the project said, "The wonderful thing is that not only were the kids very imaginative in their designs but they were also very generous with the cakes, preferring to let more cakes go to the homeless rather than keep them for their own consumption – they really put their heart and soul into the cakes."

There were prizes for the best decorated cakes including a junior masterclass for one parent and child as well as chocolates from La Maison du Chocolat. These prizes were very carefully chosen, the masterclass for children run by City Inn Westminster is designed to educate and entertain while encouraging good eating habits. Similarly chocolates from La Maison du Chocolat (arguably France's premier chocolatier) were chosen to raise awareness about ingredients and in particular highlight the difference between standard newsagent chocolates which are full of hydrogenated fats, excess sugar and the real thing made by dedicated chocolatiers.
The organisers hope that this is the first of many such events. The after-school club is likely to have a cake-decorating stall at its community fun day (Saturday 23 July, Tabard Gardens), and the ultimate aim is to create a food for the homeless project run entirely by children – children would participate in the cooking from a young age and then as they grow older would become managers of workshops deciding on ingredients, recipes and distribution. For further information or for details on how to host your own magic cake decorating workshop see www.magiccakeday.com.