This summer The Steam Industry is again putting on a free theatre season in The Scoop next to City Hall. One of this year's productions is an adaptation of Robert Louis Stevenson's Treasure Island.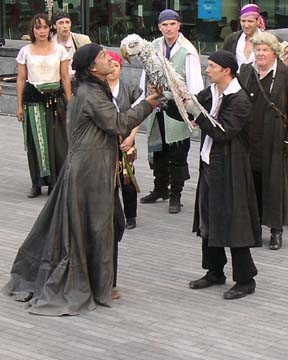 The performance begins with a loud, rowdy sung procession of the actors making their way down and around into arena. Here the performance sets off on it's journey for lost treasure.
The young Jim Hawkins, played by Andrew Venning, is in a heap of excitement when he secretly finds the way to treasure hidden by pirates. Jim sets off along with a robust, headstrong Lady Jacqueline Tralawny, played by Bea Holland, and a gang of capable sailors, that turn out to have some conspiring pirates among rank. When Long John Silver, the most horrible pirate known, played by Stewart Alexander, comes along to find the treasure Jim finds himself in a terrifying trap.

Will the pirates kill the others, including Jim, and seek out the treasure for themselves? Or will they be defeated by Jim and his trusty side kick, Ben Gunn, played by Nick Smithers, who has a ridiculous infatuation with cheese?
Whether you know the story by heart or are learning it for the first time come to the Scoop for an evening of fun for all. Treasure Island is packed with song, comedy, fantastic costumes, and skillful acting! It even has dancing mice!
The perfect event for summer is waiting for you at The Scoop. So don't miss out!