Trace is a site-specific installation across the first floor windows of Neckinger Mills in Abbey Street recalling the female workers who played a key role in the building's past.
Trace is the culmination of a two-year initiative conceived and managed by artist Alison Marchant. The work reveals the otherwise hidden and displaced identities of industrial female workers.The research phase of this project began at
Southwark Local History Library
in
Borough High Street
, where Marchant discovered that the current Neckinger Mills building, formerly Bevingtons & Sons Ltd, produced light leathers for shoes and fancy goods. Women have always worked in finishing the skins and lime painting, and it was said that the fish oil used in the glazing process enhanced a beauty in the Bermondsey women's hair and skin. Bevingtons Neckinger mills opened in 1801 and continued production until 1981.
'Memory mapping' is how Marchant describes her work fusing local history with social engagement and contemporary art. Marchant and recorded the memories of former tannery workers at
Beormund Community Centre
Pensioners Forum. Editing the material at
Resonance FM
's studios, the artist developed the audio piece into a radio programme in collaboration with Life & Living Producer Mick Hobbs. Within the recorded voices lie the complex descriptions of the laborious, the sensuous and the notion of the labourer as artist. This process also signifies an echo or delay, filtering across London 'on air' and back into Neckinger Mills as radio transmissions.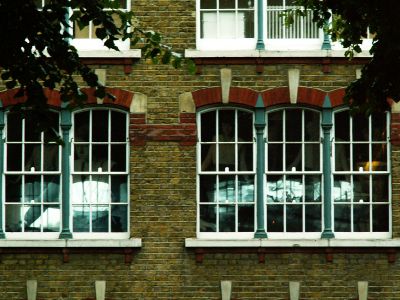 Viewed from the street by day or night, changing in the differing quality of light, Trace is a 24 hour project. Its visibility relies on the meeting of the viewer's gaze prompted by publicity or simply a chance encounter. The quality of the changing light renders the photograph ghostly but ever present and watchful. This fluctuation between visible and invisible, fading and emergence, like the action of pressing a camera shutter, signifies the passing of time and the filmic photographic process – the archive and the process of research where one retrieves information and shelves it again.
Trace is a Café Gallery Projects initiative, and amongst others composer Michael Nyman have helped to make it possible.
• Trace can be seen in Abbey Street until 30 October, with artist-led evening tours by appointment (tel: 020 8257 0589/07747 134 064). The piece is best as a night-time viewing from 10pm.