Mayor of London Ken Livingstone has switched on new lighting on the South Bank.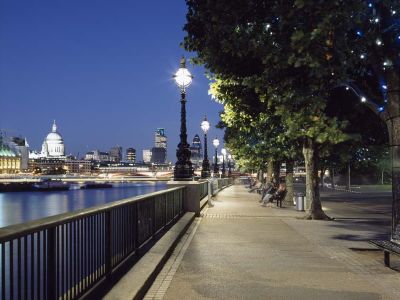 Peter Durant/arcblue.com
White and blue twinkling lighting runs along the riverside walkway from the IBM building to
Blackfriars Bridge
lighting up the trees. The refurbished Sturgeon lamps, dating from 1878, on the river wall have also been improved to throw light on the path.
Champagne was served to guests who were invited outside Oxo Tower Wharf to hear the Mayor declare "Let there be light" before seeing the riverside trees light up.
Ted Inman of the South Bank Employers' Group said: "The aim of this project is not only to make a stroll along the river even more enjoyable but also to help reduce fear of crime which is a key priority for South Bank Employers' Group."
Most of the light is cast on to the riverside walkway in order to improve the safety and comfort of visitors whilst ensuring minimal light pollution is caused.
The trees' lights use light emitting diodes (LEDs) which have a long life and low power requirements.
Guests were surprised when Ken Livingstone's partner and children joined the riverside party to watch the late night ceremony. Earlier the Mayor had told his hosts that he was usually home at such an hour.
The project is funded by Waterloo Project Board, Transport for London and Southwark Council and commissioned and managed by the South Bank Employers' Group working in partnership with Coin Street Community Builders, Lambeth Council, the Metropolitan Police and English Heritage.