A 70-storey tower block is planned for Blackfriars Road. At 738 feet it will have the highest flats in Britain.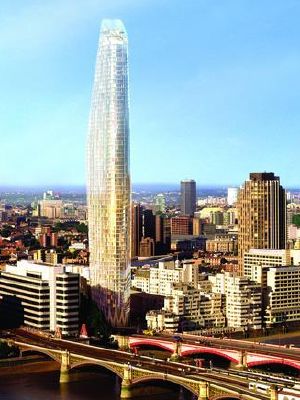 The site chosen is the
Blackfriars Road
/
Upper Ground
/
Rennie Street
/
Stamford Street
block at the
Blackfriars Bridge
approach. It was until recently occupied by Drury House, Sainsbury's headquarters, which had been built as United Africa House by Unilever after the Second World War.
The architect for new building is Ian Simpson who has produced the scheme for Beetham. The developer is known for high rise developments including one recently rejected by Brighton Council.
The Blackfriars Road building proposal includes an hotel and a viewing gallery.
Paddy Hugh of English Heritage has expressed concern that Southwark Council had yet to publish a Tall Buildings Policy. The Council, despite holding consultation seminars with architects, developers and residents, says that it does not yet have a publication date.
Beetham recently staged at short notice a thinly attended consultation at the Nautical School but gave no information about the design or height of its proposed building.
Plans are also being submitted to Southwark Council for ten and 35-storey buildings on the west side of Blackfriars Road immediately to the south of the Beetham site.