The Mug House under London Bridge is always worth a visit but on Wednesday and Friday evenings one's attention will be drawn to an exuberant actress in costume welcoming you to A Midsummer Night's Drink.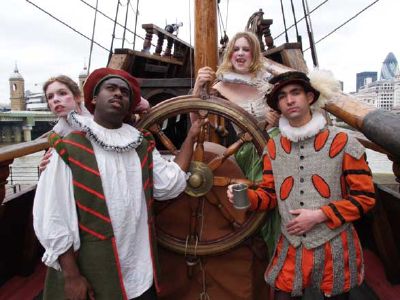 A troupe of four actors from Streetwise Productions take the drinkers on a walk around Bankside stopping to perform snatches of Shakespeare interspersed with much banter. The four are Burbage (Joe Lombardelli whose credits include the
Young Vic
), Vivienne Smailes (Helen Herman), Dorcas Decker (Philippa Thatham and Autolycus Bartholomew Schmit (Bode Olaleye).
Aloof Burbage is the great actor Richard Burbage whose father helped to dismantle the Globe in Shoreditch and bring the timbers to Bankside. Vivienne is a young simple actress/prostitute and Dorcas is a more experienced actress/prostitute.
Pickpocket Autolycus acts as ringmaster leading the undeground theatre company just ahead of the law and taking bets on bear baiting in the Bear Garden.
The asides are packed with historical information which appear to be well-researched and are delivered with careful timing and huge energy. The players remain in character throughout as they lead the way "through Winchester Palace" into the Clink and via an inn to Mr Shakespeare's theatre.
It's a fast moving 90 minutes which can sometimes be longer depending on numbers and weather. We were there for their first wet night but the show went on.
This summer's acclaimed Canterbury Tales, performed at locations around the Borough, had too short a run. Those who missed Chaucer should book a place on the Midsummer Night's Drink tour.
• Group bookings: 020 7704 1150.