A collection of walking guides to the Elephant and Castle has been launched by the team leading the regeneration of the area.
People have been pounding the pavements of Elephant and Castle in a series of walks organised by the Elephant and Castle regeneration team and led by local writer John Constable.
A new collection of fun walking maps – 'Unusual walks around Elephant and Castle' – was launched at the events. The maps combine historic points of interest with the future £1.5 billion regeneration plans for the area.
Walks were held last month part of a week of events to celebrate the life and work of Charlie Chaplin. A Walworth Walk featured present and former places of interest from the Elephant and Castle to the Walworth Road, and the Little Tramp highlighted places of interest in Charlie Chaplin's Life.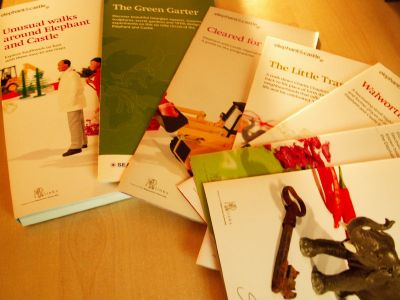 The walks were well attended by both Elephant and Castle residents and people from outside the borough interested in the regeneration scheme.
Southwark Council
officers were in attendance to answer questions about the ten-year programme.
Copies of the walks booklet can be obtained by contacting the Elephant and Castle regeneration team on 020 7525 4919 or by emailing elephantinfo@southwark.gov.uk?subject=I saw the walks on the London SE1 website">elephantinfo@southwark.gov.uk