MP Simon Hughes demonstrated his support for Southwark Credit Union when he signed up to become a member at the recent Tabard Gardens fun day.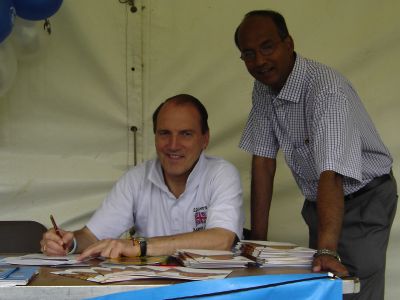 Simon Hughes signs an application form to become a member of Southwark Credit Union. Also pictured: Lakshman Chandrasekera, CEO of Southwark Credit Union.
"I am keen to see local co-operatives such as credit unions thriving and am happy to sign up as a member today," Simon told local residents,
"If you are on benefits and tied into expensive loans with door-to-door lenders, why not talk to Southwark Credit Union? Why pay £650 in interest on a £1,000 loan when the same loan will cost just £66 with the Credit Union?" added the MP.

If you live or work in Southwark and would like to become a member of Southwark Credit Union you can visit one of the Credit Union's branches at Denmark Hill, Rye Lane or Borough (18 Pilgrimage Street).
Southwark Credit Union is a £4.2 million financial co-operative providing affordable financial services to people living or working in the London Borough of Southwark and SE1 postal code area.
In August 2005 Southwark Credit Union's 4,880 members had saved £3,762,743 and accessed £3,407,809 in affordable loans.
Last month Mayor of London Ken Livingstone joined Southwark Credit Union at the launch of the credit union's financial services to the 640 GLA staff at City Hall.
The Greater London Authority is the latest Southwark employer to offer their staff the opportunity to join Southwark Credit Union. Other Southwark employers offering Credit Union membership to their staff include Southwark Council, the Immigration Advisory Service, Kings College Hospital, Guy's & St Thomas' Hospitals and the London Ambulance Service, amongst others.