500 volunteers formed a giant human banner in Jubilee Gardens on Thursday morning to mark the launch of a new coalition of 18 campaign groups to fight climate change.
Jubilee Gardens">
Stop Climate Chaos
will mobilise its millions of members and supporters to put pressure on the government. The new coalition wants the government to slash the UK's global warming gas emissions and make fighting climate change a key part of its plans to deal with global poverty.
The National Federation of Women's Institutes, Greenpeace, RSPB, Oxfam, Christian Aid, WWF, CAFOD, Friends of the Earth, People & Planet and Tearfund are just some of the groups already committed to the new movement, with others set to join.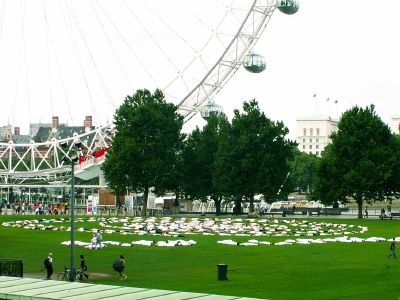 Jubilee Gardens">
"We're facing a catastrophe, with hundreds of millions of people at risk from severe drought, starvation and disease, and by the middle of the century up to one third of land-based species may face extinction," said coalition director Ashok Sinha. "The time has come to respond with the utmost urgency. The organisations that have come together today are supported by millions of people who will be called upon to demand the steps that must be taken right now."