An improved section of the Thames Path in front of Southwark Cathedral was unveiled by Prunella Scales during Friday's Bankside Information Day.

Prunella Scales and the Dean of Southwark, the Very Revd Colin Slee
Montague Close
is a key link on the Thames Path between the
Golden Hinde
at St Mary Overie Dock and London Bridge.
The improvement scheme focused on creating a natural pedestrian link using new lighting, widened pavements, seating areas, cycle racks and traffic calming measures.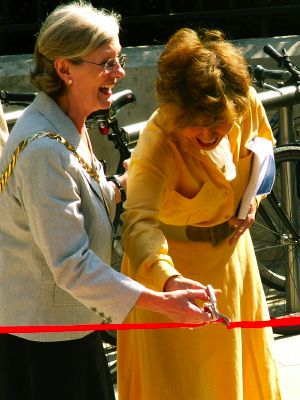 The Mayor of Southwark, Cllr Vicky Naish, and Prunella Scales cut the ribbon to open the improved area.
The ceremony was performed by Prunella Scales, who along with husband Timothy West is a regular worshipper at Southwark Cathedral.
The scheme was funded by Southwark Council, Thames Path Strategic Walks Network, Southwark Cathedral and a number of local businesses including Ansbacher & Co, Glaziers Hall, GVA Grimley and Ross Jaye Sayer.
The opening ceremony took place during Bankside Information Day, an annual gathering organised by Southwark Council bringing together developers, businesses, community and voluntary groups to promote regeneration development in the Bankside area.
This year Bankside Information Day takes place in the cathedral's churchyard between 11am and 6pm on Friday 2 September.