Ken Livingstone has named the forthcoming relandscaping of Potters Fields Park as one of the next batch of his 100 Public Spaces programme, underlining the importance of open spaces.

The view of Potters Fields looking towards Tooley Street from the top of City Hall
The
Potters Fields Park
project comprises green landscaped spaces. As the park twists inland towards
Tooley Street
it becomes a more densely planted and intimate space for quiet contemplation. Towards the river, the park will be more open and robust to emphasise the magnificent views of the Tower of London and Tower Bridge and to cope with large numbers of people and occasional events. Delft patterned seating will be
located on the new riverside walkway – a reference to the potters of Potters Fields.
Between the two parts of the park will be a hub linking the park and More London, which will provide space for a small kiosk, toilets and picnicking facilities.
The Mayor's Architecture and Urbanism Unit is holding a major exhibition in partnership with New London Architecture at the Building Centre, Store Street, London WC1.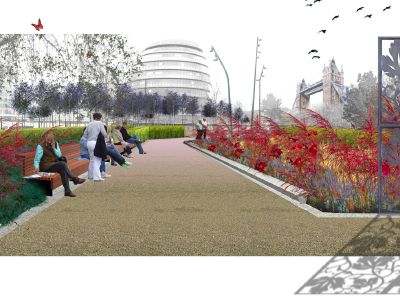 The exhibition Civilizing Spaces: Improving London's Public Realm celebrates the growing understanding of the importance of excellent, amenable and accessible public spaces in London. Centred on the Mayor's 100 Public Spaces programme it highlights progress on the first 24 projects and signals the launch of a further 10 projects as a third phase of the programme, bringing the total number of projects to 34. This marks the point where a third of the programme is now under way.
Three years ago
Lower Marsh in Waterloo
was named as one of the ten original pilot projects.
By 2012 all 100 projects will be under way and the Mayor hopes that many exemplary projects will have been delivered to improve quality of life for Londoners and to showcase London to the world as it hosts the Olympic Games. The exhibition also highlights key initiatives such as Transport for London's Streetscape Guidance to promote high quality design.
• The exhibition runs until Saturday 8 October 2005; open Mon-Fri 9am-6pm; Sat 10am-4pm; fee