Rambert Dance Company has announced plans for its new £16.5 million headquarters on Upper Ground.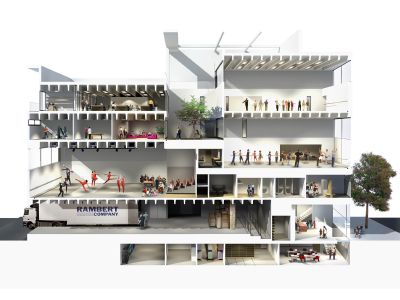 Rambert">
Coin Street
Community Builders invited
Rambert
to be part of the development on the car park site opposite the
National Theatre
in
Upper Ground
.
Southwark-based Allies and Morrison – responsible for the Bankside123 development behind Tate Modern – were appointed last year as project architects.
Rambert is currently based in Chiswick but the South Bank location will provide the chance for Rambert's artistic director Mark Baldwin to can fulfil his ambition to make Rambert one of the world's most versatile, accessible and exciting dance companies.
"As Britain's only large-scale touring contemporary dance company, Rambert performs on some of the largest stages this country has" says Mark Baldwin. "The size of our studios, however, severely restricts the scale of productions that we can create, essentially stifling our artistic aspirations.
"In addition to fulfilling our artistic needs, the new premises would also provide the public with greater access to the Company, our education activities and our archive. We have in this proposal the opportunity to turn Rambert into a national resource centre."
Rambert hopes to raise £11. 5 million to finance the new building from a combination of private and public sources. The opening is planned for 2008.
The Rambert building is part of a wider development on the Doon Street site which will include a public swimming pool.
• Find out more about the Doon Street development at the South Bank Forum on Thursday 29 September – 7pm-9pm at the Franklin Wilkins Building, 150 Stamford Street.