The new GBP 13 million Unicorn Theatre in Tooley Street - the UK's first purpose-built professional theatre for children - will open on 1 December. Details of the first season have also been revealed.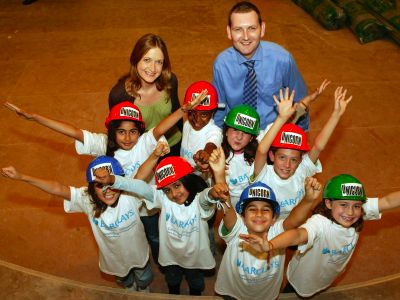 London school children at the announcement of Unicorn's first season and Barclays First Class: Adults from left to right: Kirstie Robbie, Regional Liaison Manager, Barclays PLC; Simon George, Business Research Manager, Barclays PLC. Children from left to right, middle row: India, Joelle, Nikki, Joe. From left to right bottom row: Emma, Shivani, Hasan, Isabel. All pictured in the Weston Theatre, the Unicorn's main 340 seat auditorium (Photo: Phil Adams)
The new theatre will open with two shows, David Wood's adaptation of Tom's Midnight Garden and In The Box.
Unicorn will put on seven shows during its first season, and expects to play to over 100,000 children each year – influencing and growing the country's next generation of theatregoers through a broad range of theatre, education and other arts productions.
Unicorn, designed by Keith Williams Architects, comprises a 340 seat main auditorium, the Weston Theatre; a 120-seat studio, the River Theatre; a dedicated education centre, the Foyle Education Studio; rehearsal and green rooms, public space and a café.
Artistic director Tony Graham and associate directors Carl Miller and Rebecca Gatward have developed a programme that will feature an array of national and international artists and work.
"Unicorn's work for children is destined to shake things up," says Tony Graham. "Unicorn is a remarkable new theatre and marks an exciting development for theatre for children in national and international cultural life. Our artistic ambitions remain as adventurous as ever.
"We are committed to creating an imaginative, resonant theatre for children and for all of us. The first season does just that and is an explosive brew of national and international theatre with new writing, world premières and classics. Education is integral to the new season and addresses issues as diverse as the child's place in society through to the awesome power of Antarctica.""
Barclays First Class, a new community initiative from Barclays, is enabling over 1,500 children from across London to see Tom's Midnight Garden during a special preview week before the Unicorn formally opens. Schools from every borough in London are being invited to bring a class of children to the theatre. The selected schools are those serving some of the most disadvantaged communities in their borough, emphasising Unicorn's and Barclays' commitment to make the new theatre accessible to all children regardless of background or parental income.