London Fashion Week has been launched with a fashion show on the Millennium Bridge.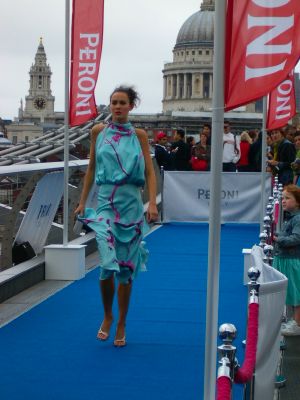 Peroni Nastro
Azzurro
laid a blue carpet from Bankside and over the water to covert the bridge into a catwalk showing new collections.
Five young British designers were selected to show their new creations: Kirstimaire, Jatin Patel, Chloe Croft, Naomi Givens and Masood Ahmed. Also showcased was new Collezioni Peroni designs.
"London's first ever catwalk show over the Thames has been an historic day in fashion" said Peroni Nastro Azzurro marketing directorJean-Pierre van Lin.
Peroni is also a supporter of this year's Fashion Fringe, the nationwide competition to seek out young talented fashion designers and support them at the start of their careers.
Bankside spectators were able to enjoy the Italian Peroni lager at a special riverside bar.