The site of Bankside's first theatre, the Rose in Park Street, is to be marked by a Southwark Council blue plaque as a result of this year's public vote.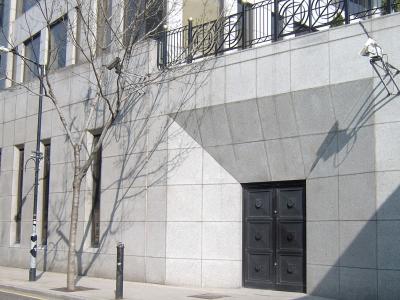 The presently unmarked entrance to the Rose Theatre Exhibition on Park Street
Describing the Rose as "historically the most important theatre site in London", actor Sir Ian McKellen expressed his delight that the site is to be marked by a plaque: "I remember the excitement felt internationally by academics, theatre-goers and actors like myself who appreciated at last seeing the evidence of the first flowering of English drama over four hundred years ago. The remains of the building where Shakespeare and Marlowe learnt their craft deserves a plaque more than any other I can think of."
In March the Rose Theatre Trust launched an appeal to raise £4 million for a full excavation of the site.
Eight 'winners' of Southwark blue plaques – one for each community council area – have been announced after thousands of votes came in to determine which famous people and places with links to the borough should be recognised with a plaque.
In a testimony to the ongoing popularity of a traditional London cuisine, the famous Manze's Pie and Mash shop, frequented by locals and celebrities, received more votes than any nominee in the history of the plaque campaign. The original Manze's shop opened at 87 Tower Bridge Road in 1902, but the plaque will be mounted at the Peckham branch.
Plaques also go to Phyllis Pearsall, creator of the London A to Z street atlas, 'Secrets and Lies' Hollywood actress Marianne Jean-Baptiste, who was born and raised in Southwark; iconic actor and comedian Charlie Chaplin; Una Marson, the first black programme maker at the BBC; Peek Freans biscuit factory, which invented the twiglet and gave Bermondsey the name 'Biscuit Town'; and Richard Carr-Gomm, who set up the Carr-Gomm Society to offer housing and support to thousands of people.
Cllr Nick Stanton, leader of Southwark Council, said: "There are so many famous people and places with links to Southwark that we're delighted to be honouring more of our sons and daughters with a Southwark blue plaque.
"We've had three times as many votes this year which shows the ongoing enthusiasm of the public to make their own mark on Southwark's history."
SE1 sites to be awarded plaques in previous years include the site of the Tabard Inn of Canterbury Tales fame and the Southwark home of Mary Wollstonecraft. A plaque on Bankside recognises Sam Wanamaker's contribution to the building of the replica of Shakespeare's Globe.