Southwark's Family Learning Week programme got off to a flying start on Saturday when more than 50 families took part in workshops at the Elephant and Castle Shopping Centre.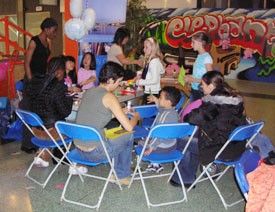 The event gave families the opportunity to design and make personalised placemats, invent and decorate a family coat of arms and use digital photographs to make family fridge magnets. As well as providing support for families to engage in learning in the home, there was also plenty of advice available for adults interested in getting back to learning.
Many families went away with lots of ideas of things to do and make, as well as bags full of items made on the day and free promotional materials.