Pupils at Charlotte Sharman School at the Elephant got a preview of one of the trophies up for grabs next month at the Ministry of Sound during the closing ceremony of Southwark Community Games.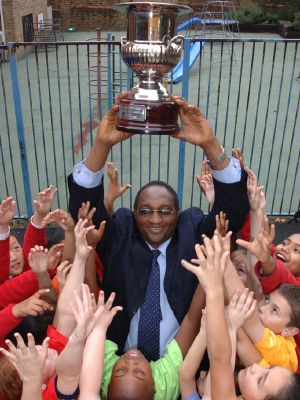 Cllr Columba Blango,
Southwark Council
's executive member for equalities, culture and sport, paid a visit to the school with the Champion of Champions Cup which will be awarded to the young person who has shown the most sporting promise and commitment at this year's games.
The Champion of Champions Cup is one of ten trophies that will be handed out at the ceremony on 30 November.
"I believe it's important that we encourage our young sporting stars by formally recognising their achievements," said Cllr Blango. "That's why I have arranged for trophies to be awarded for performance and fair play, and hope they act as an extra incentive for young people to strive for sporting excellence."
More than 5,000 nine to sixteen year olds from across the borough have taken part in this year's games.
Heats and finals have been held in sports ranging from athletics to volleyball to cricket to dragon boat racing, with all participants representing one of the eight community council areas in the borough.
The games were launched in April 2004 by England and Manchester United ace Rio Ferdinand.