Roast, the restaurant occupying the top floor of Borough Market's Floral Hall, has now opened promising to serve the best British food from fresh ingredients purchased in the market.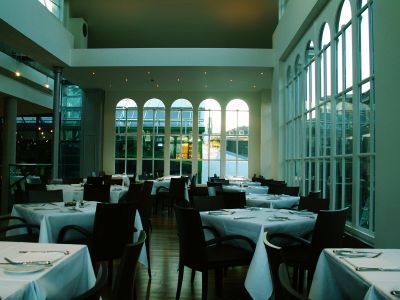 The restaurant is the project of former journalist Iqbal Wahhab who already owns the sucessful Indian restaurant called The Cinnamon Club in Westminster where diners tend to be MPs and trade union leaders.
Here in Borough Market not only is the food different but so will the customers be according to Mr Wahhab. He expects to see market traders dropping in for a Sillfield smoked bacon butty at breakfast and families coming for Sunday lunch.
The restaurant has made its first purchases with the meat from Ginger Pig which is directly under the restaurant and the fish from Furness which trades from a pitch opposite Roast's lift. Sillfield Farm is supplying the smoked breakfast bacon and Turnips delivering the first vegetables.
Beer is from Utobeer and although Iqbal Wahhab is serving a couple of English wines he insists that only good wines will make it. "I'm not listing English wines out of charity" he insists.

The sugar has been brought from outside but it is Billington's organic.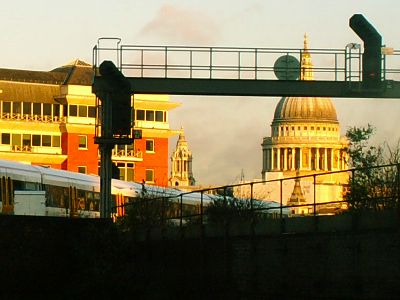 The high level restaurant is on two levels with a high ceiling and semi open kitchen. Early diners have commented on sight of St Paul's Cathedral to the north. To the south the view over the main market is similar to the one in the latest Harry Potter film which located the
Leaky Cauldron
in
Stoney Street
.
---
The Full Borough
Leigh Hatts, who tried one of the first breakfasts, writes:

The corner seat in the Floral Hall not only allows a view of the sun on St Paul's but also a birdseye view down on to others enjoying breakfast at Monmouth Coffee opposite.
The Roast breakfast started with fresh orange juice. After being tempted by 'Mulled Seasonal Fruits with Toasted Chelsea Buns and Neal's Yard Yoghurt' (£5.50), kedgeree (£7.50) and boiled eggs with Marmite Soldiers (£3.80) we fell for the Full Borough (£12).
This consisted of smoked streaky bacon, a Cumberland sausage, two slices of fried bread, black pudding, grilled tomatoes and mushrooms. Two beautifully poached eggs had clearly been properly cooked in hot water.
The plate, which was free of baked beans, did not appear to be over full as in a transport café but then with real food one does not need so much. Included was unlimited coffee and toasted Flour Power bread.

---
Roast is a smoke free zone.
Roast in Borough Market's Floral Hall is open for breakfast 7am-10am (Sat 12 noon); lunch 12pm-3pm (weekends 4pm) and dinner 5.30pm-1pm (Sat 6pm-1pm).
020 7940 1300.
Book a table at Roast with toptable.co.uk