Southwark celebrated Energy Saving Week in style this week, as Asda Old Kent Road and the Elephant and Castle Shopping Centre saw kids become tigers, fairies and Spiderman.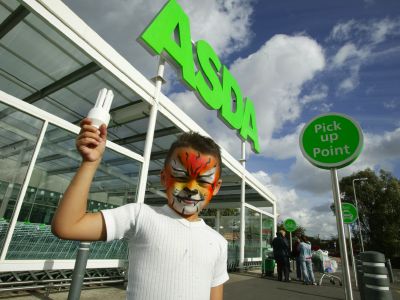 Reece Johnson holding a low energy lightbulb at Asda Old Kent Road event held on 25 October.
The events gave parents a chance to find out how they could save energy, save money and help the environment in their own home.
With their kids queueing for the free face painter, parents were able to fill in a Home Energy Check form to receive a free low energy lightbulb and be entered in to a prize draw to win an A rated fridge/freezer, run by Southwark Council. Using just one energy saving lightbulb could save £7 on a household electricity bill each year.
"Saving energy at home is quick, affordable and easy – it's great to see so many people willing to make a difference and help reduce the impact of climate change," said Martin Fitzpatrick of the Southwark Energy Efficiency Advice Centre. "For free and impartial advice on how to make your home more energy efficient, call our hotline number on 0800 512 012."
Energy Saving Week (24-30 October) is an annual national event run by the Energy Saving Trust which helps people across the UK find out more about saving energy in their own home. Top tips include using low energy lightbulbs, installing loft insulation and using heating controls correctly to keep your house cosy in winter. Energy efficiency can also save money on household fuels bills -- wasting heat is wasting money and can be easily stopped with simple tips such as closing your curtains at night, using radiator panels and draughtproofing your home.