The Artist and Radio 4 exhibition at the Bankside Gallery has been opened by Simon Hoggart.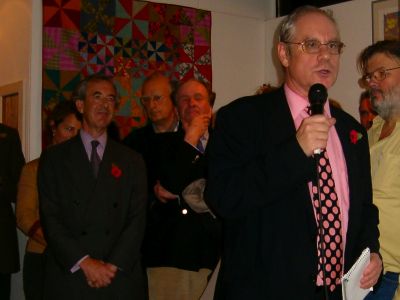 The Radio 4 quizmaster praised the radio station as unique when he spoke during the show's champagne launch. The exhibition features paintings and drawings by artists including SE1-based Zandra Rhodes who work whilst listening to the radio.
Each artwork is accompanied by a personal statement describing how Radio 4 influences and complements the working practice.
Jo Barry working in the New Forest on aquatint etchings says: "I work from home, mostly on my own. Radio 4 is on constantly. It is my absent family providing interest and amusement and company without demanding to know where its clean underwear is or if it can have a lift somewhere."
Carole Andrews, producing images of plant and sea life, speaks of grasping strands of fleeting images in her head and nailing them down into sketches.
Printmaker Stephen Hoskins says that Radio 4 has been part of his artistic life for as long as he can remember from working in print editioning studios during the 1970s, when everything stopped for The Archers, to listening to the Afternoon Play.
• The Artist and Radio 4 is at riverside Bankside Gallery in Hopton Street, 11am-6pm, until Sunday 27 December; admission free.