The latest round of consultation on plans for Jubilee Gardens was launched this week at the London Television Centre.
Jubilee Gardens">
More than 50 local residents took part in the social evening held on Monday at ITV's
London Television Centre
on the South Bank.
The evening was introduced by Ted Inman of the South Bank Employers' Group, who explained that the Jubilee Gardens Steering Group had decided to set aside two elements of the original design brief: neither a cafe nor toilets are now envisaged for the gardens.
Paul Finch, deputy chairman of CABE, chaired the presentation and question and answer session, and introduced Adriaan Geuze of competition winners West 8.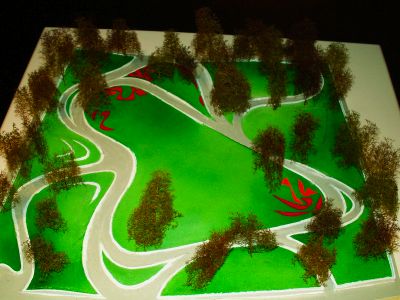 Jubilee Gardens">
Geuze set out his vision for a new, undulating landscape for the riverside park – evoking England's rolling hills – with edging that recalls the white cliffs of Dover.
Many new trees will be planted – a mixture of native and ornamental species – to create what Geuze described as "a broccoli on the Thames".
West 8 also hopes to deliver "the best of the Dutch tradition of flower beds", with Geuze looking to the Royal Parks as a benchmark for standards of planting and maintenance.

Jubilee Gardens">
The plans include provision for a variety of events to be staged on the site, from small community gatherings to major concerts with several thousand spectators. The steering group has indicated that large events are likely to be appropriate a few times per year, but some local residents insist that the park should be a place of tranquility at all times.
The children's play area will be themed on Birnam Oak, drawing inspiration from Shakespeare.
Questions from local residents included concerns about skateboarders and graffiti. Whilst the designs were broadly welcomed, there was concern about how the gardens would be maintained. Ted Inman explained that the park will be run by a new Jubilee Gardens Trust which will lease the site from the South Bank Centre, and maintenance will be funded by income from the London Eye's section 106 agreement.
Details of the trust are still being ironed out but it is likely to include equal representation of the big organisations immediately neighbouring the site and local residents' and business groups.
Despite West 8's insistence that Jubilee Gardens should be more than a doormat for the London Eye, Donald Weighton of the Friends of Jubilee Gardens expressed concerns about the flow of pedestrians through the park between Belvedere Road and the London Eye, and between the Golden Jubilee Footbridges and Forum Magnum Square at County Hall.
Consultation: where to see the plans and have your say
Exhibition 11am-6pm
Saturday Briefing
Saturday 12 November: 11am-12.30pm at Waterloo Action Centre, 14 Baylis Road

Another chance to find out about the latest design, hear the presentation, speak to the design team and ask questions.