A silent demonstration was held outside the Shell Centre on Thursday morning to mark the tenth anniversary of the death of Nigerian writer and artist Ken Saro-Wiwa. Later a memorial event was held on the riverside walkway.

Outside the Shell Centre in York Road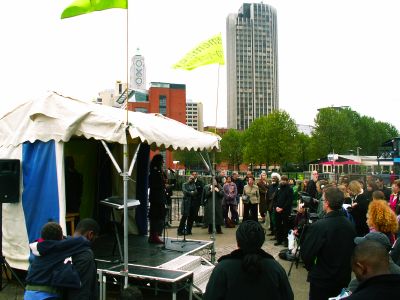 The event on the riverside walkway
At the memorial event held near Gabriels Wharf the winners of the competition to design a living memorial to the artist and writer were announced. The judges spent five and a half hours debating their decision at Whitechapel Art Gallery on Wednesday and decided to select two artists as winners.
Sculptor Sokari Douglas Camp proposes a transformed Nigerian bus, emblazoned with the words of Ken Saro-Wiwa and multimedia artist Siraj Izhar proposes an LED light portrait of Saro-Wiwa, electrified by cycle-power.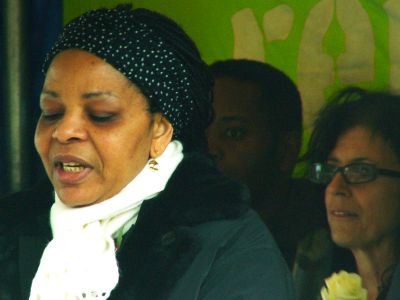 Ken's widow Maria Saro-Wiwa, son Ken Wiwa and Anita Roddick
It will be Britain's first ever mobile memorial, moving from site to site over two to three years, while at the same time planning for a permanent home.
The open competition for ideas for the memorial was launched in March at an event at City Hall.