A small peace garden has been opened off Borough High Street with the ceremony timed to coincide with the approach of Remembrance Sunday.
The garden has been laid in
Little Dorrit Park
and has flowers and a dove in mosaic as the central feature.
The just completed project is the result of five years of volunteer input from the Little Dorrit Park Steering Group, the neighbouring Cathedral and St. Joseph's Schools and the local community.
The design for the mosaic – by 9-year-old St Joseph's pupil Natalie Agaiby – was chosen from amongst twenty designs by children from the two church schools. The ribbon was cut by pupil representatives.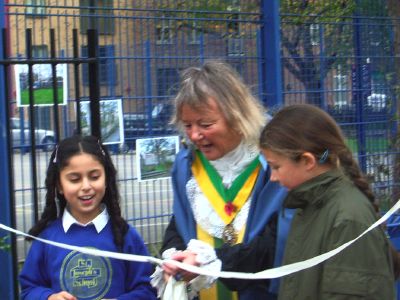 Hilary Wines cuts the ribbon
Former Mayor Hilary Wines described the garden's creation as "a partnership in the community" and a place for adult residents to come to remember people and celebrate life.
The design and installation of the garden has been supported by Bankside Open Spaces Trust and Southwark Council's Regeneration and Parks Departments. Funding came from Living Spaces, Bankside and Borough Community Council, Southwark Council, PricewaterhouseCoopers and Metropolitan Public Gardens Association.