Only two Lambeth councillors were present for the planning committee's visit to the proposed Founder's Place development site next to Archbishop's Park.
The special Saturday morning site visit had been arranged so that committee members could see the area alongside
Archbishop's Park
before considering the application at a meeting on Thursday.
Among others at the outdoor meeting, which began with a gathering in Canterbury House, were residents living on the site and architect Sir Terry Farrell and his team.
Planning chair Brian Palmer introduced Cllr Janet Grigg but said that he was unable to explain the absence of the other five members.
Some tenants of Canterbury House who will be moved to a new block expressed concern at the loss of their view of Archbishop's Park which will be blocked by new private flats. Nearby residents were anxious to protect the threatened green fringe beyond the park boundary which adds to the pleasant views from the park.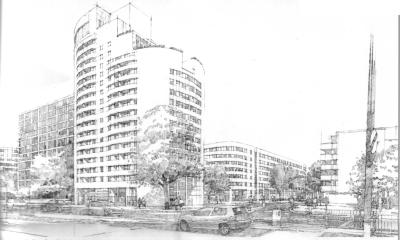 Mrs Joan Aldred, who has lived in Canterbury House since it was built in 1957, was able to locate a hidden artesian well which may be part of a lost 12th-century minster church on the site.
Planning officials confirmed that English Heritage has begun discussions about an archaeological dig to uncover the foundations of a cathedral-sized church if construction goes ahead. The 'minster' stood in the Royal Street area to the west of Carlisle Lane.
Founder's Place is a Guy's & St Thomas' Charity development providing a range of health-related facilities including a new residential units for the families of sick children close to the new Evelina Children's Hospital land new key worker accommodation for around 400 NHS staff members.
The two planning committee members also visited the corner of Westminster Bridge
and Lambeth Palace Roads where there is a proposal for an office block to replace York House and the former Florence Nightingale pub.
• The Founder's Place scheme will be considered by Lambeth planning committee sitting at the Franklin-Wilkins Building in Stamford Street at 7.30pm on Thursday 17 November. There will be seats for the public to observe proceedings.