Moving images of poppies were cast onto Shell Centre, and the London Eye was lit red for four nights to mark Remembrance Weekend.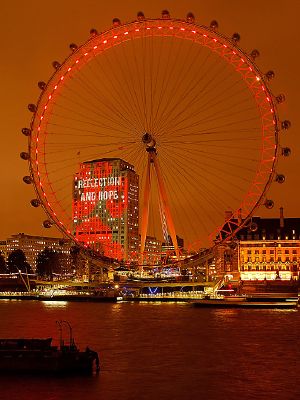 The London Eye and Shell Centre lit up for Armistice Day (Picture: Peter Simmonds)
Brigadier Ian Townsend, director general of the
Royal British Legion
, said: "We are delighted that Shell has chosen to help The
Royal British Legion
to highlight Remembrance and the Poppy Appeal in this way. Our work is vital to support the millions who have served and are currently serving in the Armed Forces and their dependents. We hope that this will encourage people to give generously and wear their poppy with pride."
On Friday morning pupils from St James Junior School in Kensington boarded the London Eye, accompanied by World War II Veteran Len Jeans, to pay their respects. At 11am, the wheel stopped moving and the children bowed their heads in an act of remembrance.
"We are delighted to support and salute the wonderful work of The Royal British Legion each year," said London Eye MD David Sharpe. "Marking Armistice Day with a Two Minute Silence is as important today as it has ever been."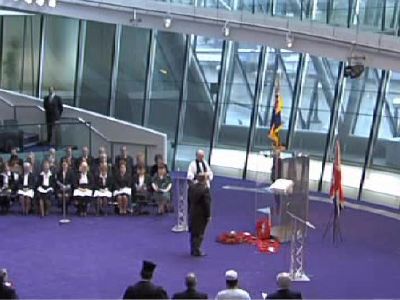 Meanwhile London's war dead were remembered at a ceremony in the Chamber at
City Hall
on Friday.
The Royal British Legion GLA City Hall branch hosted the Armistice Day service, which was conducted by the branch chaplain Canon Richard Truss, vicar of St John's Waterloo. Hindu, Muslim and Jewish faith representatives also participated.
The chair of the London Assembly, Sally Hamwee AM, the Mayor of London, Ken Livingstone and Councillor Brian Coleman, vice-chairman of the London Fire and Emergency Planning Authority were among those to lay wreaths at the City Hall war memorial. This is the first time that this annual Remembrance Day service has been held at City Hall.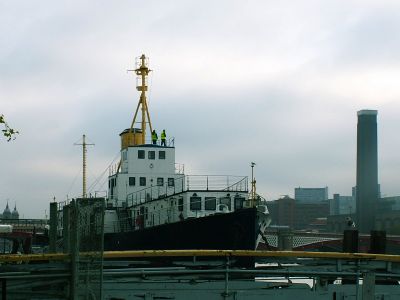 On the morning of Remembrance Sunday a message was passed by semaphore along the Thames from Greenwich to Horseguards Parade.
HMS Belfast
was one of the signalling stations, and the SE1 riverside walkway afforded good views of the north bank signalling points including Cannon Street station.
The National Maritime Museum commissioned artist Beth Derbyshire to produce 'Message'.
The piece involved 20 veterans of various conflicts. They began by signalling the message by semaphore from the roof of the Royal Observatory in Greenwich to other veterans at the Cutty Sark.


Signallers on board HMS President
The message was decrypted at Whitehall and laid on a wreath at the Cenotaph by the director of the National Maritime Museum, Rear-Admiral Roy Clare. It read: "War turns us to stone. In remembrance we shine and rise to new days."
On Sunday the usual wreath-laying ceremony took place at the Borough War Memorial in Borough High Street, outside the former Southwark Town Hall.