Helen Edmundson's adaptation of Jamila Gavin's novel provides an electrifying, disturbing, utterly compelling night at the theatre.

Jack Tarlton as Meshak Gardiner and Anna Madeley as Aaron (Picture: Catherine Ashmore)
You soon understand why the National doesn't reccommend the play for under-12s: a baby is strangled, bodies are exhumed and a man is hanged. And that's all before the interval.
Thomas Coram – whose London home was in Rotherhithe – doesn't appear as a character in the play but his name is invoked and his Foundling Hospital in Bloomsbury has a major bearing on the plot.
The action unfolds at breakneck speed as parallel plots are woven together and complex social issues in 18th-century England are tackled. The result is an exhillarating 2 hours 50 minutes of theatre that couldn't leave even an audience of cynical journalists unmoved.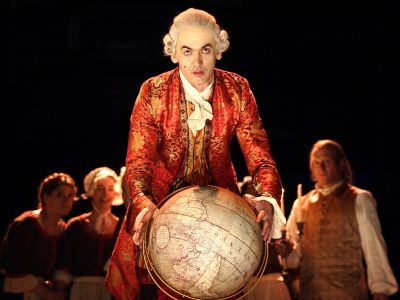 Paul Ritter as Philip Gadarn and members of the company (Picture: Catherine Ashmore)
The casting is superb, the music – drawing on Handel's role as a benefactor to the Coram Hospital – splendid.
Going to see Coram Boy reminded me just how fortunate we are in SE1 to have the National Theatre on our doorsteps. Book your tickets now.