A new cafe serving fairtrade and organic products has opened in Blackfriars Road. Cafe Arlington is a social enterprise helping homeless people get back into work.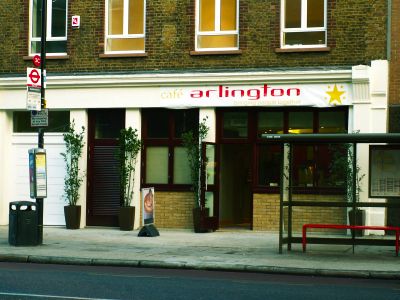 Café Arlington
is an initiative of the social enterprise organisation
Novas Group
. The first cafe opened in Soho's Dean Street in September. Further branches are planned for Novas'
Southwark Bridge Road
HQ and Liverpool.
The Blackfriars Road branch is the only cafe in the northern part of the busy north-south street and was already doing a brisk lunchtime trade only two days after opening its doors. It occupies the ground floor of a building that previously housed the Novas Group's own head office before it relocated to Southwark Bridge Road.
Profits made from the cafes – which provide organic, non-GM and fairtrade products – will be reinvested into Novas' services to increase access to education, work and training initiatives for homeless and other excluded individuals. 50 per cent of the staff employed at the four cafes will come from individuals using Novas services.
Cafe Arlington has gone to great effort to select ethical suppliers. The coffee is from Cafe Direct (cappuccino £1.89), and the bread, cakes and pastries (chocolate brownie £1.35) are supplied by Patisserie Organic. Delicious soups come from the Knobbly Carrot Food Company (regular takeaway soup £2.50).
Novas works with 15,000 people every year – including those experiencing experiencing homelessness, alcohol and/or drug issues, young people, Black and Ethnic Minority communities and ex-offenders.
The group provides a wide range of individual and community development projects which offer work, education, learning and cultural activities to thousands of people.
"This is a wonderful initiative and cements our growing reputation as an organisation which provides innovative solutions to the problems of homelessness and social exclusion," says Novas' chief executive Maria Donoghue-Mills. "Many people who are homeless or experiencing social exclusion face insurmountable barriers in accessing employment and training. An individual may have a criminal record, are temporarily housed, have had past substance misuse issues with drugs and alcohol, or have suffered from mental health problems.
"As such individuals who want to work and learn new skills can often find themselves pushed out of the labour market due to prejudice or that they have not been given an opportunity to gain any valueable work experience.
"Café Arlington will enable homeless and excluded individuals to gain new skills and build upon existing ones, gain in personal confidence and offer positive pathways out of homelessness and exclusion."
• Caf√© Arlington at 234 Blackfriars Road is open Monday-Friday 8am-6pm