Borough Music School is celebrating 10 years providing after-school music tuition to local children with a celebration concert next month.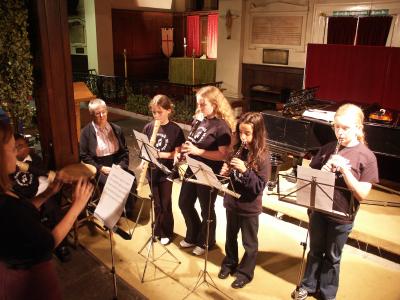 (photo: Anthony Harriott)
In September 1995 the
Borough Music School
started with nine pupils and two teachers in an upstairs room in the former Borough Community Centre in
Southwark Bridge Road
. At that time there was little provision for instrumental tuition in community schools, especially primary schools, and many parents of limited means welcomed the provision of opportunities which they themselves had not enjoyed. Individual lessons were offered in keyboard, violin, flute, clarinet recorder and guitar, all by local tutors.
From the beginning there was an emphasis on performance, and regular end of term concerts. As numbers grew, more tutors joined, and the school began to enjoy regular support from local trusts and charities. The school is particularly grateful to Newcomen Collett Foundation and St Olave's Foundation, for their regular support. Performances included ensemble work and pupils were entered for external exams. Its financial position was often precarious but it was financially rescued by the North Southwark Education Action Zone, which supported its work in local schools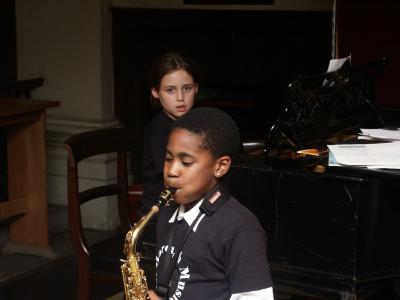 (photo: Anthony Harriott)
The School has since moved to
Charles Dickens School
for its Saturday sessions, and does an after school session at
Cathedral School
on Mondays. It has in the past worked in Friars,
Snowsfields
and Townsend Schools, and takes pupils from a range of other Southwark schools, mostly in the north and centre of the borough.
There are now 97 pupils, from 70 families, and 14 regular tutors. Besides the regular termly concerts, pupils have performed at local festivals, occasional concerts in the church of St George the Martyr, and at the borough's Frost Fair in December. Many local schools have contributed pupils and given them an opportunity to perform, and pupils have progressed to Centre for Young Musicians and a more advanced standard in their secondary schools.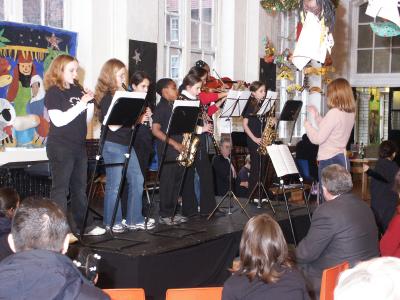 (photo: Anthony Harriott)
New last year was a musical collaboration with a National Youth String Orchestra, and next term pupils will
take part in a musical drama
, a joint project with
Southwark Playhouse
.
To mark this tenth anniversary the school is holding a special concert in Christ Church, Blackfriars Road, at 2.30pm on Saturday 10 December, and invite all friends, old and new to enjoy the high standard of music making the school can now offer, followed by refreshments provided by the parents committee.