Shakespeare's Globe is marking Islam Awareness Week with the Tent for Peace - an international design project inspired by Othello.
Othello gives his wife Desdemona a handkerchief 'spotted with strawberries' as his first love-token. Given to his mother by 'an Egyptian', the handkerchief would therefore have been of Islamic design and an object of great beauty and status. When Desdemona cannot find the handkerchief, Othello's jealous suspicions erupt into rage and Desdemona offers a second handkerchief to calm him.
Children and students from around the world were asked to design either a 'handkerchief of love' or a 'handkerchief of peace'. Sixty of the designs promoting love and peace have been selected, hand-embroidered and sewn together to create the lining of a beautiful Tent for Peace – following a traditional yurt design – which will be used for workshops in this country and abroad.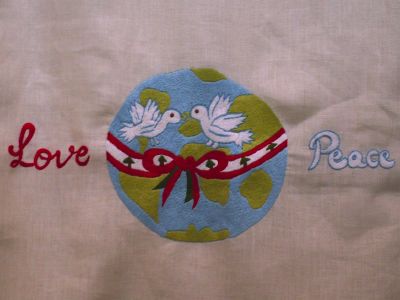 The Tent for Peace was launched at
Shakespeare's Globe
on Thursday night in a special event hosted by the Globe's education director Patrick Spottiswoode, and Sir Iqbal Sacranie, secretary general of the Muslim Council of Britain.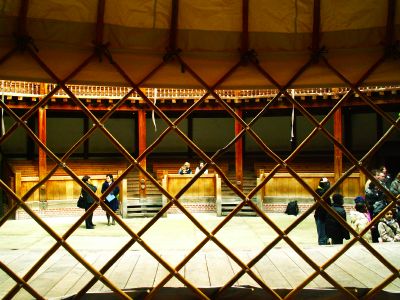 The Tent for Peace and an exhibition of students' designs will be on display at the Shakespeare's Globe Exhibition on Saturday 26 and Sunday 27 November accompanied by a programme of workshops around the Tent run by the Prince's School for Traditional Arts.
Islam Awareness Week is an annual event initiated by the Islamic Society of Britain, an affiliate of the Muslim Council of Britain, which invites Muslims to share Islam with the public at large, providing information about its message and way of life. This year's Tent for Peace initiative follows last year's Souk at the Globe.
"It is excellent that the Education Department of Shakespeare's Globe has once again devised such an innovative and creative project for Islam Awareness Week," said Shafeeq Sadiq, national coordinator for Islam Awareness Week. "The Tent for Peace is an excellent symbol of how we can all work together during the week and throughout the year."