The London Fire Brigade has confirmed plans to relocate its headquarters from Albert Embankment to Union Street. The Lambeth site is likely to be redeveloped, with plans for a skyscraper under consideration.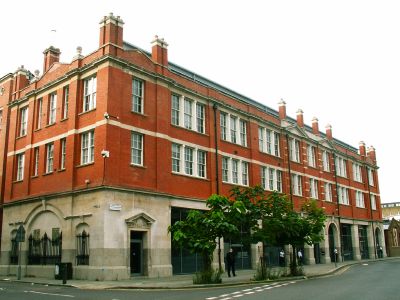 169 Union Street
Contracts have now been exchanged on the former Royal Mail parcels sorting office at 169
Union Street
which is large enough to allow all HQ staff to be located together. The completion date is the end of February 2006.
The building, previously occupied by Sainsbury's, now houses Accenture staff.
Dron & Wright, the Authority's advisers, had been investigating buildings suitable for accommodating all staff currently based at 8, 20 and 21 Albert Embankment (Main Block, Rear Block and Hampton House) before the leases on 20 and 21 Albert Embankment expire in March 2008.
A number of buildings were short-listed, based on many criteria, with location being a key factor – in particular transport and amenities for staff and 'blue light' response times for operational officers.
Staff moves to the new building will be phased and will start in mid- 2007. Once they are complete, 8 Albert Embankment, including Rear Block will be sold. Lambeth Fire Station will remain and operations will continue from the existing site.
The Architect's Journal recently reported that an off-shore consortium of developers are working up plans for a tall building on the site of the current LFB headquarters, as part of the cluster of skyscrapers emerging in the Vauxhall area.
"This is excellent news," said commissioner Ken Knight. "Having our HQ staff in one location will help to strengthen how we all work together to deliver the modern world class fire and rescue service that London deserves. We will be working with specialist consultants to plan the layout and services to meet the needs of staff, so that we have a building that is good for our staff and provides professional headquarters for the Brigade in the 21st century."
Val Shawcross – chair of London Fire and Emergency Planning Authority (LFEPA) and London Assembly member for Lambeth and Southwark – said: "This is a great development for the London Fire Brigade and our staff. I'm very pleased that the deal has been completed after the Authority unanimously approved the relocation.
"The new building will allow all our staff to work together in a single building, with access to and from our training centre next door on Southwark Bridge Road. I can only see the organisation benefiting from HQ staff and trainees from the training centre working closer together, and I'm personally looking forward to the move in 2007."
Members approved the relocation at the meeting of the London Fire and Emergency Planning Authority on 15 September.