Police investigating a violent attack on a bus driver in the Old Kent Road have released images taken from CCTV cameras on the bus.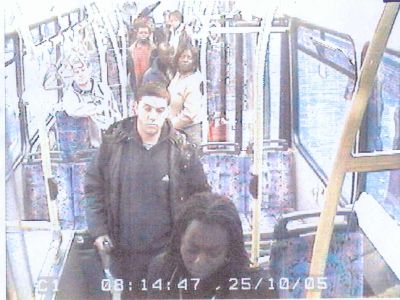 The attack happened on Tuesday 25 October, at about 8.15am on a route 42 bus from Camberwell Green. When the bus stopped on the
Old Kent Road
to terminate, a passenger on the bus approached the driver and demanded to be taken to Liverpool Street Station.
The driver refused and the man then threatened him with violence. He then reached under the driver's screen and started to take cash from the moneybox. As the driver tried to stop him, the suspect punched the screen until it broke off. He then pushed the screen down on the driver, trapping him underneath, whilst punching his head.
He then got off the bus and threw a rubbish bag from the street onto the bus before making off across the Bricklayers Arms roundabout and along Tower Bridge Road.
The 32 year old driver did not go to hospital but was treated for cuts by his doctor and is still receiving attention for problems with his neck and back.

The suspect is described as a white man, about 28 years old and 5' 8" tall. On the day of the incident he was wearing a blue tracksuit top, blue fleece top, and white trainers.
The incident is being investigated by Walworth Robbery Squad. DC Mike Lee said: "I am appealing for anyone who witnessed this incident or anyone who was on the bus and may have seen anything of this man before the incident. Please look closely at this picture and let me know if you recognise this man. He carried out a vicious attack on a bus driver who was trying to carry out his job, serving the public."
If you have any information, please contact DC Lee on 020 7232 6047 or Crimestoppers on 0800 555 111 to remain anonymous.