Representatives of local companies gathered at Southwark Cathedral on Wednesday for a special Choral Evensong for the Business Community and to light up the cathedral's Christmas tree.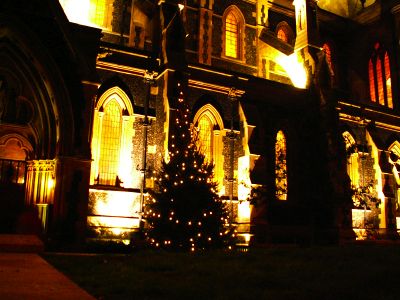 The service, organised in association with
Better Bankside
and the
Volunteer Centre Southwark
, also marked the launch of Better Bankside's Bring a Better Christmas project.
After the service the choir, clergy and congregation processed to the cathedral's south churchyard where the Dean of Southwark, the Very Revd Colin Slee, presided over the switching on of the Christmas tree lights and the choir sang Silent Night.

Bring a better Christmas
Better Bankside is working with five local charities which support older or homeless people: Broadway, Lucy Brown House, Hopton's Charity, Age Concern Southwark and the Manna Centre.
While doing your Christmas shopping, why not get an extra gift to donate to the appeal? They can be dropped off at any of the following collection points


• Better Bankside, 118 Southwark Street
• Shakespeare's Globe, The Stage Door, 21 New Globe Walk
• Southwark Cathedral, Montague Chambers reception, London Bridge, or to a member of staff
• The Forster Company, 49 Southwark Street
• Volunteer Centre Southwark, Wigglesworth House, 69 Southwark Bridge Road
• Tourist Information Centre, Vinopolis

Suggested gifts

• Food: non-perishable, luxury treats, e.g. boxes of biscuits, small Christmas puddings, chocolates, preserves, tins of salmon, boxes of tea.
• Toiletries: attractive packaging in a range of sizes, e.g. boxed soap, hand and body cream, shaving foam, shampoo, toothbrushes, combs.
• Clothes: new please, not worn, e.g. socks, scarves, hats, gloves, t-shirts, thermal vests, warm jumpers

Street to Home Appeal
Better Bankside and homelessness charity Broadway are also working in partnership with local businesses and with Borough Market traders to help London's homeless this Christmas.
Sales from specific Christmas products will be donated by the retailers to Broadway as part of their 'Street to Home' appeal.
Watch out for pink stickers in retailers across Bankside, and help homeless people make the journey from street to home:
Participating retailers
• Amano, Clink Street
• Brindisa, Stoney Street
• Fusebox, Stoney Street
• Stoney Street Cafe, Stoney Street
• Chez Michelle, Stoney Street
• The Natural Smoothie Company, Borough Market
• UtoBeer, Borough Market