Next year's London Architecture Biennale will feature an inaugural sheep drive across the Millennium Bridge, it was revealed last week.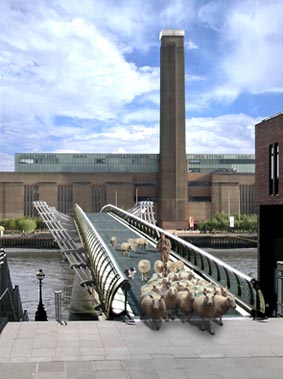 Following the response to the inaugural London Architecture Biennale in 2004, the celebration will return in June 2006 on a vastly increased scale – covering a wider geographical area, involving even more prestigious names and organisations, and linking with national events including
Architecture Week
,
Bike Week
and
London Sustainability Weeks
.
London Architecture Biennale will once again centre around the Smithfield area but will extend its reach to include a route connecting King's Cross and Bankside. Talks, exhibitions, walks, film screenings, parties, debates, artworks, Thames events and an awards ceremony will reflect the Biennale's aim to celebrate diverse creative talent in London and to bring that talent to bear on real issues that confront the city today. London Architecture Biennale will form a 5km long architecture exhibition along the Biennale route.
Plans for the nine-day programme, which include invited contributions from architects and planners around the world, include a King's Cross to Borough Market walking and cycling route dotted with interventions, events and guided tours, an inaugural sheep drive across the Millennium Bridge and an exhibition on the Millennium Bridge to include exclusive material from Biennale President and author Peter Ackroyd and designed by Arup and Fosters.
The theme of 'Change' gives a focus for the Biennale events – from change in the physical infrastructure and landscape of the city (including the major developments at Kings Cross and Elephant & Castle), to change in buildings and architectural form; from change in the public's interaction with the built environment, to the change in urban markets – the current vogue for shopping at the historic food markets of Borough and Smithfield – and the constant shifting of the City's financial markets.
The Biennale headquarters will be sited in Smithfield House; Smithfield was the site of the ancient Bartholomew Fair, a contemporary re-creation of which will launch the London Architecture Biennale, a festival designed to increase understanding of London and the forces that shape it.