200 of Southwark's brightest young sporting stars gathered at the Ministry of Sound last week for an awards ceremony to mark the end of the second year of the Southwark Community Games.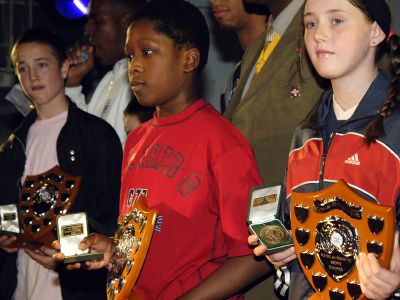 Photo 3: Award winners show off their plaques and medals at an awards ceremony at the Ministry of Sound to mark the end of this year's Southwark Community Games.
Sporting heroes from the world of football and rugby presented awards to the eight to sixteen year olds for their achievements in sports ranging from tennis and cricket to dragonboat racing.
West Ham footballer Anton Ferdinand joined England women's rugby stars Helen Clayton and Karen Andrews on stage on Wednesday to make the presentations.
Since the games launched in April 2004, around 9,000 young people from across Southwark have represented their community council area in a range of sports.
DJ and BMX coach CK Flash compered the ceremony in which Camberwell picked up the Community Council cup for winning this year's games. Walworth, which won the cup last year, were the runners up with Peckham in third place.
Azeez Soetan from Townsend Primary in Walworth won the Champion of Champions Cup, donated by Cllr Columba Blango, for his sporting achievements during this year's tournament. Cups were also awarded to the champion of each of the eight community council areas.
Young people who represented Southwark in this year's London Youth Games, in which the borough came third, also attended the ceremony to pick up trophies for their achievements.
Cllr Columba Blango, Southwark's executive member for sport, said: "It has been another exceptional year for sport in Southwark. The levels of dedication and enthusiasm at this year's games were truly inspirational and I'd like to congratulate every young person who took part.
"Through the community games, I hope that many more young people will be encouraged to take part in sports which could take them all the way to the London 2012 Olympics."