Southwark's Old Operating Theatre, Museum and Herb Garret will be moving temporarily from the attic to the crypt of St Thomas' Church while essential repairs are carried out on the roof.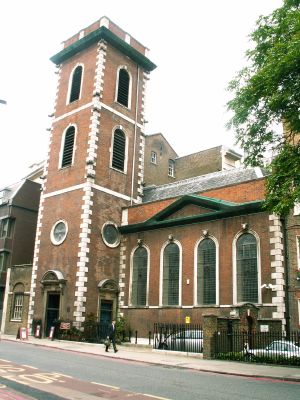 Seldom before seen by the public, the crypt opened on Monday with medical exhibitions, artworks and a programme of events.
Built by Christopher Wren's master mason Thomas Cartwright and completed in 1703, St Thomas' Church is the oldest surviving part of the original St Thomas' Hospital. The double vaulted crypt was used for the storage of coffins, and is thus known as the Coffin Crypt. For a while, the crypt was rumoured to have been the location of the hospital's operating theatre, until the rediscovery of the actual theatre in the church attic in 1956. During 18 weeks of roof repairs to the attic, this historic venue will at last be open to the public, six days a week.
As well as medical exhibits, the crypt will also house a workshop area, providing family friendly activities for children in the new year, and a replica theatre for demonstrations of Victorian surgery, as well as an expanded gift shop. The crypt will also be the venue for the display of part 2 of the current "Suture" exhibition – visceral interactive video art by Phillip Warnell and Richard Squires, incorporated into the museum's medical displays.
This will be an exciting new opportunity for the museum to expand on what is currently being offered to the public," said museum director Kevin Flude. "The additional space means that a workshop area can be provided, so that the museum as a whole will become much more interactive and child-friendly."
The Trustees of the Old Operating Theatre Museum and the Trustees of the Borough High Street Amenity Foundation are assisting Chapter Group Plc in the funding of the repair of the roof of St Thomas' Church. These repairs are part of a schedule of restoration of the fabric of the entire property, which is a grade 2• listed building. The restoration is supported by Southwark Cathedral, Southwark Council, and English Heritage.
The church – which ceased to be a place of worship in the late 19th century – was damaged during the building of the Jubilee Line Extension in the mid-1990s. In 2004 the church was placed on the Buildings at Risk Register.