Residents of Metro Central Heights this week staged a protest against plans by developer St George which could see a number of mature trees cut down on Newington Causeway.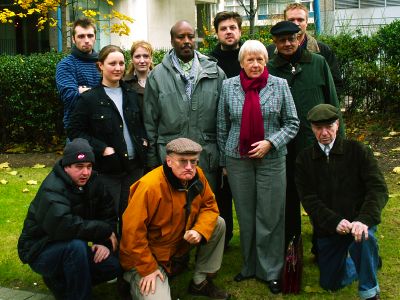 Residents of Metro Central Heights and the Rockingham Estate with Cllr Lorraine Zuleta on the site of the planned sales and marketing suite
In September developers St George submitted a planning application to Southwark Council for a "non-permanent portakabin for use as a sales and marketing suite, associated five car parking spaces and subsequent tree/landscaping removal, lamp post removal and alterations to boundary fence".
The marketing suite would be used to sell the 68 residential units St George plans to build on the Metro Central Heights car park site opposite the Coronet on New Kent Road. This scheme has been vigourously opposed by many residents of Metro Central Heights, who fear the loss of their secure car parking, as well as loss of light for those who live on the eastern side of the building.
After a lengthy planning battle, permission was granted earlier this year subject to a number of conditions, including the provision of alternative parking spaces for MCH residents whose usual parking would be displaced during the building work.
St George's proposal to provide on-street parking permits around the Rockingham Estate was opposed by both MCH and Rockingham residents – citing both security and space issues – and was turned down by Borough and Bankside Community Council at its meeting last month.
Metro Central Heights was formerly known as Alexander Fleming House and designed by Erno Goldfinger. In 1997 St George converted the former government office building into 422 residential apartments.
Professor Bob Lobay, who chairs the Metro Central Heights Residents' Association, described the planned tree removal as a "travesty" and "vandalism". He points to the number of empty units in the Elephant and Castle Shopping Centre and suggests that St George could rent space there for a marketing suite.
Residents also complain that the green landscaping around the building was used as part of the sales pitch when they bought their apartments.
We contacted St George's PR company for comment but no response had been received by the time of publication.