Developers of the so-called Shard of Glass at London Bridge are planning an office and shopping development alongside the tower, also designed by Renzo Piano and to be called 'Baby Shard'.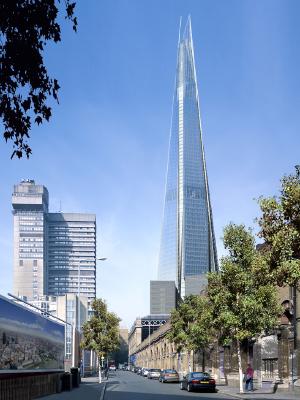 The main Shard viewed from St Thomas' Street
Property entrepreneur Irvine Sellar – the man behind the planned London Bridge Tower (now rebranded
Shard London Bridge
) – is proposing the £400 million, 600,000 sq ft development for the 1970s
New London Bridge House site
he bought two years ago, according to a newspaper report on Monday.
New London Bridge House stands on a triangular site bounded by London Bridge Street, Railway Approach and the bus station.
A planning application to Southwark Council is expected early in the new year. The 'Baby Shard' is planned to be three quarters the size of One Canada Square [the biggest tower at Canary Wharf].
According to The Times, Mr Sellar is also proposing a new public space between the Shard and New London Bridge House, with an open piazza planted with trees. The London Bridge transport interchange would also be remodelled and opened up to allow more natural light through the use of skylights and glass bricks.
A new 21-stand bus station would be constructed to the north of the 'Baby Shard'. The current bus terminus can accommodate 13 vehicles.
New London Bridge House – the name of the existing building will be applied to its replacement – is also expected to boast an inclined roof with solar panels providing a significant energy source.