Six years after the closure of the Museum of the Moving Image, the BFI has announced plans to use the space for an improved National Film Theatre.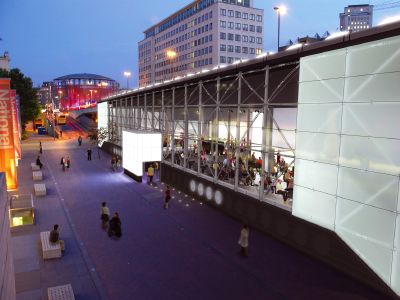 Work starts on the project in January and the new venue will open in Autumn 2006, in time for the 50th London Film Festival.
The main entrance to the British Film Institute's South Bank complex will move to Theatre Avenue (the walkway linking Upper Ground to the riverside between Waterloo Bridge and the National Theatre), which will also provide a direct pedestrian path between the NFT and the BFI's IMAX cinema.
The BFI is keen to stress that it hasn't abandoned its intention to establish a major Film Centre on the South Bank, which still depends the resolution of local planning issues. (Bankside and King's Cross have previous been touted as alternative locations.) This £4.5 million investment is a 'stepping stone' towards the institute's longer-term ambitions.
"Astonishingly, one of the most accessible, enjoyable, popular and diverse of art forms doesn't have a flagship home," said BFI director Amanda Nevill. "This development is an important step forward in testing our vision for a national landmark building for the celebration of film."
Improved access to the BFI's 700,000-title archive of film and moving image is one of the main driving forces behind this latest development – the Mediatheque will provide opportunities for individuals and small groups to choose and watch their own selection of materials at purpose-built viewing stations.
BFI artistic director Eddie Berg explains: "For over 50 years the National Film Theatre has been home to the screening of world cinema from all periods of film history but we have long wanted people to be able to visit us on the South Bank and interact with moving image heritage in more meaningful ways and with greater access to the incredible collections held in our national archive".


Studio cinema
A small walk-in studio cinema will will be the centrepiece of the new public space within the complex, expected to be known as 'bfi South Bank'. This digital cinema will show a continuous programme of archive and contemporary films, television, talks and educational events.
An exhibition and gallery space will showcase leading contemporary artists working with film and video. The BFI has commissioned Jennifer and Kevin McCoy for the gallery's debut exhibition.
The Filmstore – the NFT bookshop closed a few years back – will aim to offer an authoritative range of film and television books and DVDs.


Foyer and studio cinema (centre)
And, of course, no revamp would be complete without the obligatory "upscale" cafe-bar.
The NFT will continue to operate a near-normal programme in its three auditoriums during the construction work, although NFT3 will have to close for four weeks during the year.