Southwark's two cathedrals are to benefit from almost £50,000 funding for repairs and safety work announced by English Heritage this week.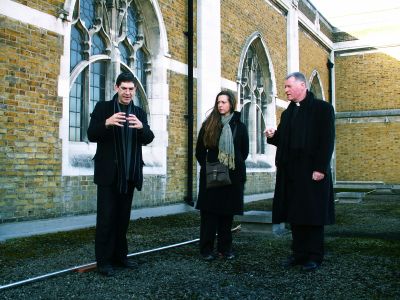 The south aisle roof
St George's Roman Catholic Cathedral
in
Lambeth Road
is to benefit from £20,000 for repairs to its south aisle flat roof, which is suffering from water penetration that has led to the waterlogging of insulation. The roof was part of the post-war rebuilding of the cathedral, which suffered extensive bomb damage in 1941, and now needs a new layer of insulation and asphalt, with work due to start this summer.
This activity will also provide an opportunity to install new wiring in the roof. The current wiring is exposed to the elements on the outside of the roof, and the new location will significantly improve the lifespan and maintenance of wiring.


Canon James Cronin, Cathedral architect Jonathan Louth and English Heritage team leader Sarah Buckingham pose on the roof of the cathedral
The cathedral is also benefiting from English Heritage grant-aided work –
announced a year ago
– to a turret above the sacristy, which is part of the original 1848 cathedral designed by AWN Pugin. Rendering, which was added after the Second World War, has recently been removed and the stone found to be in a poor state. The turret is currently being dismantled and will be rebuilt, possibly using some of the original stone.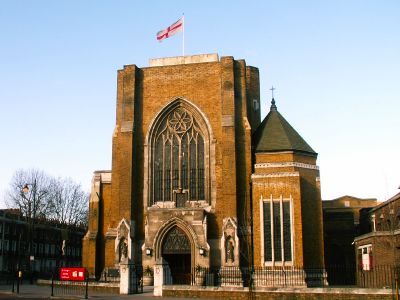 St George's Cathedral
The Dean of
St George's Cathedral
, Canon James Cronin, said: "Thanks to the support of English Heritage we are able to maintain an historic building to a higher standard than our own resources would allow and we can focus better on our mission for which purpose this significant building came to be built in the first place."
This is the 16th round of grants since English Heritage's Cathedral Grants scheme was launched in 1991 when a survey revealed that the country's 61 cathedrals were facing a huge backlog of major repairs that they could not fund alone.
Southwark's Anglican Cathedral at London Bridge will be receiving £26,000 to enhance fire protection and safety. Seven fire doors will be replaced in the tower to ensure compliance with fire regulations and safety features such as wiring and bolts will be installed at a high level so that maintenance can be carried out safely.