The Church Commissioners have announced the sale of homes in the Octavia Hill Estates - including properties at Waterloo and in Union Street.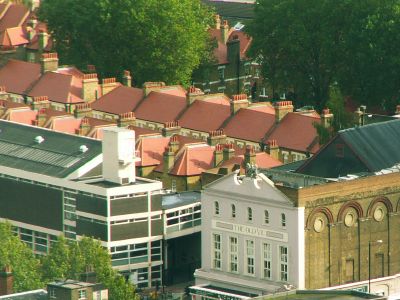 Part of the Waterloo estate seen from the London Eye
The freehold and management of these properties will be taken over by a partnership between the Genesis Housing Group and The Grainger Trust. Pathmeads Housing Association, a Registered Social Landlord and part of the Genesis Housing Group, will manage the properties.
Mike Tuppen, who lives on the Waterloo estate and has helped to lead the campaign against the sell-off, told us: "This is the worst possible outcome for the Tenants of Octavia Hill. We know from what is already happening on the properties sold last June in Waterloo that GraingerGeninvest are not a Social Landlord, have absolutely no interest in our community and are only out to achieve the largest possible return for their investors."
"For the Church Commissioners to sell of their responsibilities to their
long established tenants is totally unethical. The fight goes on until contracts are exchanged."
The deal includes the Waterloo Estate south of The Cut, made up of 159 homes in flats and cottages dating from the 1900s, and the Winchester Park Estate between Union Street and Pepper Street beside the site of the former All Hallows Church, comprising 93 flats in seven interlinked blocks built in the 1930s.
Last year the commissioners sold 130 homes north of The Cut to the same consortium.
"We are pleased with this outcome," says Paul Clark, chief surveyor for the Church Commissioners. "Unlike Genesis Housing Group and The Grainger Trust, the Church Commissioners are not focused housing providers. The new owners are more likely to be able to make any necessary investments in the properties. We understand the concerns of the residents and have sought to keep them in touch with developments throughout, but believe that this sale will be of benefit to them in the longer term."
"The outcome is also good for the Church Commissioners as it helps us fulfil our duty of providing maximum returns on our investments to fund the work of the Church."
The decision was taken at a meeting of the Church Commissioners' Assets Committee on Friday morning.
The Church Commissioners will now work towards agreeing a contract for the sale. It cannot be confirmed how long the process will take but it is expected that the sale will complete in the next few months.
The sale comes after a long campaign by tenants of the properties, including protests at the Church of England's General Synod and outside Lambeth Palace.
Tenants had initially opposed any sale outright, but said that if a sale was inevitable it should be to a social landlord.