New environmentally-friendly buses for route 360 - which links the Elephant and Castle with Kensington - were unveiled at City Hall on Tuesday.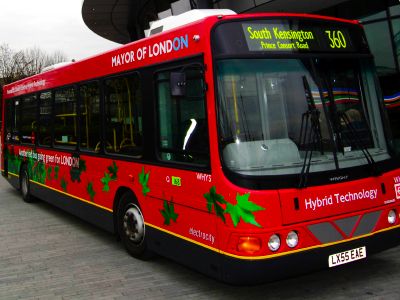 One of the new hybrid buses outside City Hall
The Mayor of London, Ken Livingstone, has announced the addition by Transport for London of six new environmentally friendly hybrid vehicles – the first ever such vehicles in London – to the London Buses fleet.
The new hybrid buses, built by the Wright Group, are cleaner, quieter and use less fuel than a standard diesel bus, leading to a substantial reduction in carbon dioxide emissions.
The hybrids will operate on route 360, run by London Central, from Wednesday 8 February. The 360 links Elephant & Castle to Kensington (Queen's Gate) via Black Prince Road, Albert Embankment, Vauxhall, Pimlico, Chelsea Bridge Road, Sloane Square, Brompton Cross and South Kensington
A leafy motif on the buses will help passengers recognise their environmentally-friendly status.


One of the new hybrid buses outside City Hall
The vehicles will be introduced as part of an ongoing programme by TfL to test innovative technology and further reduce emissions from its bus fleet. Two hydrogen-powered buses have been
operating on riverside route RV1
since September 2004.
"These cleaner, greener hybrid buses are at the forefront of environmentally-friendly technology," says Ken Livingstone.
"They will help London cut pollutant emissions and so contribute to tackling climate change and improve the city's air, as well as offering passengers a smoother, quieter journey.
"Air pollution affects the quality of life of a large number of Londoners causing around 1,000 premature deaths and a similar number of hospital admissions every year. I am determined to improve air quality through reducing transport emissions and if this hybrid bus trial is successful, we will expand their use across London."
The six hybrid vehicles will be monitored and assessed over the coming months for performance, reliability and durability.
How it works
A 336 volt battery pack provides power to the wheels via a 120Kw electric motor. The battery pack is kept at optimum power by a 1.9 litre diesel Euro IV engine. In other words, an engine which would normally be found in a family car keeps the battery charged. When the vehicle brakes, energy which would normally be wasted is also recycled and used to charge the battery. With continuous charging of the battery, the vehicle can achieve a larger operational range than a conventional diesel bus because it gets more miles to the gallon.