Over two hundred works by the German artist Martin Kippenberger (1953-1997) are on show at Tate Modern.
Kippenberger drew on popular culture, art, architecture, music, politics, history and his own life for inspiration, often using original everyday objects and materials. This has resulted in the kind of exhibition many critics expect to find at
Tate Modern
. There are several blank walls, lots of old pictures and even older furniture. The artist sometimes delegates painting to other artists.
The Daily Mirror had great fun when little-known Martin Kippenberger first exhibited solo in London in 1992. However, gallery owner Karsten Schubert forecast that "in 200 years time people will be comparing these (exhibits) to Van Goghs". Just fouteen years later, and nine years after his death, Kippenberger has a major exhibition at Tate Modern.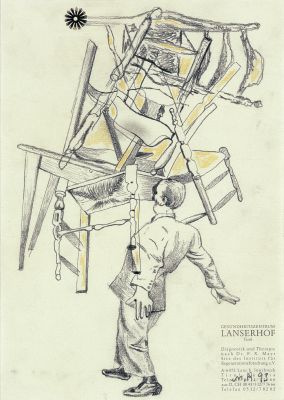 He would love it. Part of the exhibition was on show in Geneva at the time of his death and he always involved himself in every aspect of an exhibition including the invitations. It has been suggested that an exhibition was just the excuse for a catalogue which he thought should stand alone.
He exposes himself and his inspiration with the ephemera which was shown in Paris in his life time. This is part of the fun aspect of the show. There are samples of drawings made on hotel writing paper. He sometimes lived in hotels but his obsession with stationery became so great that he began obtaining headed sheets from hotels he had never even visited for a meal. If he did eat in one he sometimes drew the main dish.
Beyond White Paintings, which are worth a pause and not to be too quickly dismissed, is most extraordinary display. In the largest hall at the heart of the exhibition there is tiered seating for the visitor to view a collection of largely Fifties furniture including flea market acquisitions.

It is called The Happy End of Franz Kafka's 'Amerika' but has the immediate feel of a Grace Bros second hand furnishing department. But here again can be found an example of the artist's collecting obession. Under a table is an array of old branded ashtrays. He was an exhibition-maker.

• Martin Kippenberger is at Tate Modern until Sunday 14 May; 10am-6pm (Fri & Sat 10pm); admission £7 (conc £5.50).