Art impresario Richard Demarco opened an exhibition at the Bankside Gallery with a call for politicians to paint.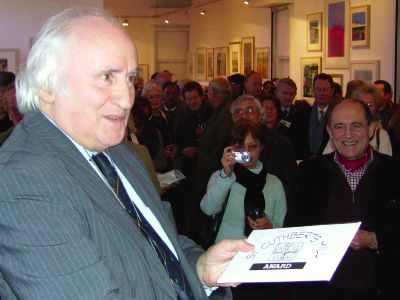 Professor Demarco, who had survived on just two hours sleep to be at the gallery, was speaking at the opening of the 21st Century Watercolour exhibition, an open competition celebrating watercolour as a vibrant medium, staged by the Royal Watercolour Society.
Double prize-winner Chris Richbell was congratulated by Professor Demarco when he presented her with both the Baker Tilley Award for her watercolour 'A Desirable Residence' and a St Cuthbert's Mill Award for 'Sunlight in the Pantry'.
Patricia Hunt won a Winsor & Newton Award for 'Blue Bush'.
Most exhibits at this year's exhibition are for sale with prices ranging from £160 to £6,000.


• The 21st Century Watercolour is at the Bankside Gallery, on the riverside near Tate Modern, daily 11am-6pm until Sunday 5 March; admission free.