Gothic Nightmares at Tate Britain looks at the taste for the fantastic around the years 1770 to 1830 through the works of Henry Fuseli and William Blake.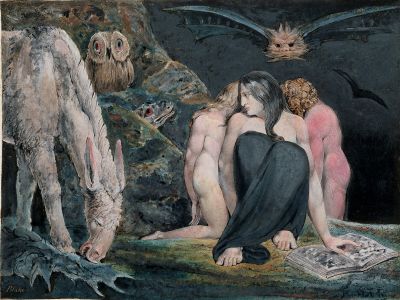 William Blake; Hecate c.1795l; Tate
Blake lived in
Hercules Road
, in an area now known as Waterloo, for a decade of these crucial years. Also at this time he was working on illustrations for Mary Wollstonecraft who lived in
Dolben Street
and was friendly with Fuseli.
Among the Blake exhibits in the Witches and Apparitions section is his Hecate produced around 1795. A witch is stripped to the waist with two young people on each side. Above is a feline bat and alongside is a donkey. Its meaning has long been debated -it could be an illustration for A Midsummer Night's Dream- but the setting is probably the garden in Hercules Road.
In another room is a huge painting, Henry Fuseli's Queen Catherine's Dream on loan from Lytham St Anne's Town Hall, depicting Catherine of Aragon on her deathbed in Shakespeare's Henry VIII -a play largely set in Blackfriars. Alongside is Blake's smaller pen and ink version inspired by Fuseli.
One room is called the Phantasmagoria and has a completely dark entrance. This surprise is an attempt to recreate an 1801 magic lantern show with sound effects "featuring supernatural figures". It may have been greatly influenced by Mexico's Day of Dead as there are plenty of moving skeleton figures, human and animal, and lifting of tomb lids. Even eyes move where faces still have flesh.
This 'slide' show, devised by Dr Mervyn Heard, is introduced with a poem by London bookseller Henry Lemoine who fell on hard times and roamed London selling books from a sack.
Another surprise is the lace curtain hung across a section of the room devoted to Fairies and Fatal Women. A notice warns that pictures of a sexual nature can be seen. One picture of two women can only qualify because the caption suggests that they might be prostitutes. Two legs depicted in watercolour are said to possibly be those of Mrs Fitzherbert who secretly married the Prince Regent. But there are a few exhibits which could have caused a stir in 1800.
Among the many Gothic souvenirs on sale is a notebook with Blake's Hecate on the cover.
• Exhibition: Gothic Nightmares: Fuseli, Blake and the Romantic Imagination is at Tate Britain, Millbank until Monday 1 May; admission £7.50 (conc £6).
• Book: Gothic Nightmares, a paperback with 140 colour illustrations, is published to coincide with the exhibition (Tate Publishing £29.99).