Samuel Adamson's comedy Southwark Fair at the National Theatre has received both high praise and a lukewarm welcome from theatre critics.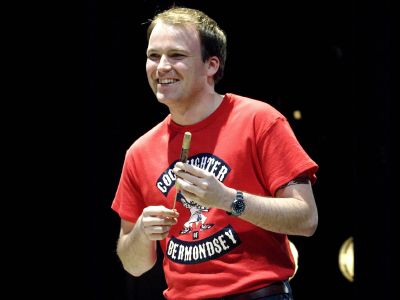 Rory Kinnear as Simon (Photo: Catherine Ashmore)
The play, at the NT's small Cottesloe Theatre, is set in and around riverside Potters Fields with the action taking place over one day.
"Samuel Adamson's new play is a blithe, surprisingly cheerful comedy about the metropolitan merry-go-round" says Michael Billington in The Guardian he awards it four stars out of a possible five.
Nicholas de Jongh in the Evening Standard gives it three stars out of five. Although he did not like the set, despite "the realistic Thames Embankment wall", he feels that Adamson displays a modern talent to amuse.
Benedict Nightingale in The Times also awards three stars observing that the SE1's riverside, on the evidence of Samuel Adamson's comedy, is a haven for mavericks and eccentrics.
Charles Spencer in The Daily Telegraph likes the set and praises the entire cast. He is waiting for Adamson's next play "with impatience".
Susannah Clapp, writing in The Observer, suggests that Giles Cadle's set "makes the South Bank look like a Hallmark card".
Author Fay Weldon, who was at the first night, not only liked the play and but found the jokes "very funny".
However, Patrick Marmion in the Daily Mail finds the play to be as frothy as any cappuccino. "It's a play you don't really have to pay to see. There's not a lot of story and you can meet all the characters for free simply by loitering in the local bars and cafes on the the Southwark Embankment."
Meanwhile, the playwright has been speaking at a National Theatre Platform event at the Cottesloe where he revealed that the decision to set the play in his home area of SE1 came after the story had been formed in his mind. He agreed that the location has allowed him to do plenty of enjoyable research in the Tooley Street and More London coffee bars.
The play's director Nicholas Hytner said that he had wanted to direct the play as soon as he read read it a year ago. He added that he had never known a play which relied so much on props.
Although Samuel Adamson has been told about the four star award from The Guardian he has still not yet read any of the reviews.