Snapping Southwark is a photo exhibition which tries to capture the many faces of the area through the cameras of local residents.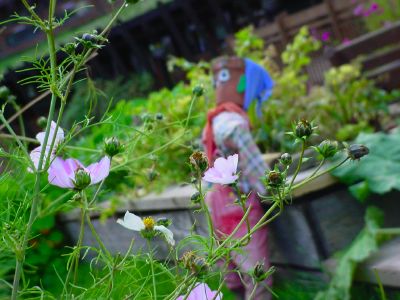 1st place, under-18 category: Scarecrow by Pia Fisher

The winners of the competition have their work displayed in modern, glass frames in the entrance to the
Shakespeare's Globe
Exhibition on Bankside.
The competition, run by Southwark Council, had under and over 18 age divisions, a mobile phone photo category, and an overall winner. With more than 400 entries, the idea of photographing Southwark seems to have appealed to many.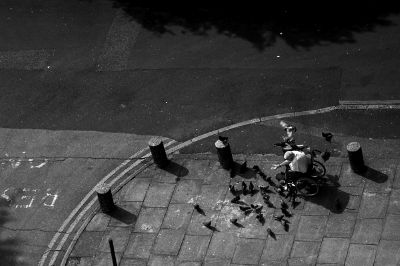 4th place, over-18 category: The Pigeon Man by Michelle Devall
The photos covered a range of subjects from a boy playing baseball to a blurred image of a homemade scarecrow. The winner, "Millennium Kiss", created by Joan Byrne, was an odd image of a couple embracing with a bunch of flowers masking their faces. While this photo was interesting, it did not seem like the obvious winner compared to "Children at Play" (2nd place) and "The Pigeon Man" (4th place), both of which were stunning images that lacked the feel of intrusion that permeated Byrne's photo.
Held at the Globe, a place of art and creativity, Snapping Southwark is a nice display of the interests and ideas that local residents have concerning their area. It is a lovely display that brings to the eyes of visitors the varying faces of Southwark.
• Until early April in the entrance foyer of Shakespeare's Globe Exhibition on Bankside (not the theatre entrance on New Globe Walk); 10am-5pm; free admission