Local residents this weekend took advantage of a once-in-a-lifetime opportunity to view some of the remains of Bermondsey Abbey before the site is built over.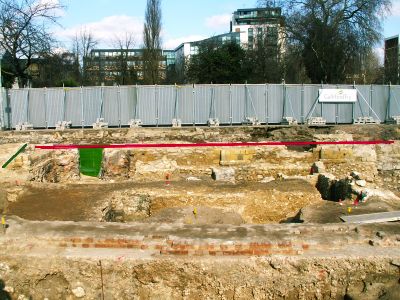 Looking north from Bermondsey Square. The red line indicates the southern wall of the abbey church. Abbey Street and St Mary Magdalen's churchyard lie beyond the fencing.
The major development on the Bermondsey Square site has provided the unprecedented opportunity for archaeologists to explore this important site.
Bermondsey Abbey was founded from Cluny in France shortly after the Norman conquest.
"We had always known about the remains but did not expect to find so much and in such good condition," says project manager Peter Moore.


The green lines give a very rough indication of the base south-western tower of the abbey church
Visitors are able to see a large section of the southern wall of the main abbey church (the body of which lies underneath
Abbey Street
and the
Tower Bridge Road
junction), as well as the base of the church's south-western tower.
After the dissolution of the monastery under Henry VIII, the south wall of the church was re-used as the northern wall of the 16th-century manor house built by Sir Thomas Pope.
The Friday morning New Caledonian Antiques Market has continued to operate on the Bermondsey Square site, but traders say that business has suffered during the pre-construction work.
The new development will include a 3-star hotel, 63 homes, commercial units, an art house cinema and a public square. The scheme provides for 200 market stalls and refreshment and toilet facilities for antiques traders and their clients.
The developers are now busy reworking their plans so that the foundations don't damage the archaeological remains. There are hopes that some of the ruins may remain visible under a glass floor in one of the new buildings.
• There is a final chance to visit the site and learn more from the archaeologists on Sunday 12 March between 10.30am and 3.30pm