The Potters Fields coach park between Tower Bridge and City Hall will this summer be transformed into a visitor attraction made entirely of ice.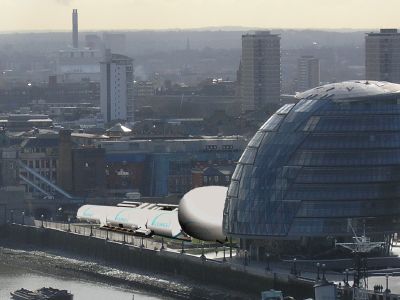 Organisers have released this rather misleading visual, which shows IceSpace on the grass areas of Potters Fields Park. In fact it will be situated further back from the river on the coach park site
Organisers say that the IceSpace will weigh more than 50 woolly mammoths and take up the space of 10 tennis courts.
For the first time Londoners will be able to skate on an outdoor ice rink in the middle of summer.
The 70ft tall and 300ft long structure will hold up to 500 people for parties and evening events. It is expected to attract 400 visitors through its doors every hour.
IceSpace will occupy the derelict coach park site beside the approach to Tower Bridge, currently the subject of a planning controversy.

"London is the place where exciting things happen first," comments James Bidwell, Chief Executive of Visit London – whose offices overlook the site. "Attractions like these are one of the reasons people keep coming back to our great city."
Southwark Council granted planning permission for IceSpace in January.
IceSpace will be launched in May, with tickets available from 1 April. It will be open until the end of June.