Ganesamoorthy Sinnaghamby of Union Newsagents is the 100th person to receive a good practice certificate from Southwark Council for repeatedly refusing to sell cigarettes to under 16s.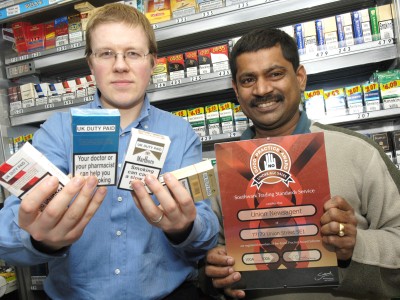 Mr Sinnaghamby, who runs the shop at
Flat Iron Square
on
Union Street
, was presented with the award on National No Smoking Day (8 March) after twice refusing to sell tobacco to a child under 16 who was working with local trading standards officers as part of a test purchasing exercise.
Cllr Richard Thomas, Southwark Council's executive member for environment and transport (pictured with Mr Sinnaghamby), said: "This initiative aims to make retailers think before they make a sale. If they are in any doubt about whether the customer is 16 or over they should refuse to sell them cigarettes.
"Most traders, like Union Newsagents, are responsible and will not sell cigarettes to children under 16. We hope this serves as a warning to any retailers who continue to flout the law."