Deep Sea 3D is a sensory explosion of colour and sound that explores the depths of the oceans and the amazing and stunning creatures that inhabit them.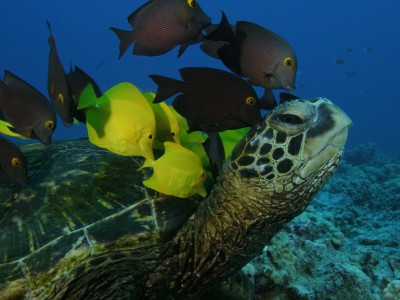 Directed by Howard Hall, Deep Sea is an underwater adventure discovering the fascinating creatures of the deep and their relationships with each other and the world around them. Using IMAX technology, the viewer is thrust into a world of sharks, sea turtles, vibrantly colored fish, which seem to swim within touching distance.
Deep Sea is a brilliant film that makes the viewers put on their diving masks and learn about an alien world on their own planet.
Alongside the amazing cinematography of Deep Sea, Danny Elfman creates an original score for the film that flows from haunting to humorous melodies that characterise perfectly the creatures gliding across the screen. To bring to life the colour and personality of this world is Johnny Depp and Kate Winslet. Through their narration, the audience learns the intricate details of underwater life in an educational yet entertaining way.
Deep Sea 3D is an amazing visual experience. Audiences discover a world of life, death and adventure through the superb technology of IMAX. Focusing on the importance of relationships to survive underwater, Deep Sea is also a stunning film full of life and well worth seeing, It is the perfect way to dive into the depths without having to get wet.
• BFI London IMAX Cinema, Waterloo, 0871 787 2525; £12; 40 minutes